Nearly a lost art, but every neighborhood had one, and now one can hardly be found. What is that you say? "The Local Barber". It was much more than just a place to get a haircut. A great place to catch up on the local happenings along with a social gathering place. Local news traveled there almost as fast as today's internet, and more than likely before it went to press in the newspaper.
Chris and I, along with others plan to do a more in-depth research of local barbers. It is hard for the younger generation to comprehend the importance of our town when Kittanning was in it's hey day. Hopefully through this site we can enlighten them. Today the youngsters have all this techno gadgets, and which the older generation can also share along, but they will may never be able to experience small town living as it was. From the older officers that I've worked with and people that enjoy talking about the old times, Saturday was the day to go to town, and also to get a hair cut.
One local barber in business before the 1920's was Alex Bonner. His daughter Mary Miller stated he started out with Felix Schuey on N. Mckean St. in downtown Kittanning. Later on he had a barber shop next to his residence at 204 Arthur St. in West Kittanning.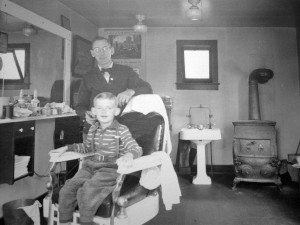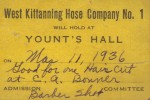 The photo above was taken at the West Kittanning barber shop in 1940. The photo to the left was for some sort of promotional/advertisement type-ticket sponsored by West Kittanning Firehall. In association was Yount's Hall and a free haircut from Alex Bonner.  Maybe our West Kittanning friends can provide us some information on Yount's Hall.  With over 20 barbers listed in the 1920's, a complimentary gift was also a promotional item, as competition was surely a factor. Picture below is a Comb Case, that held your personal comb.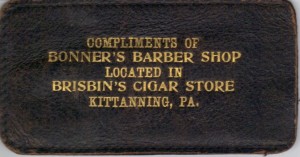 Photos courtesy of Harry Bonner