From my good friend Mary Pauline Miller comes this photo of "Tom Thumb's Wedding". Since I have nearly every name of the participants, I thought that I would share. It stated that the year was 1900 at the Presbyterian Church in Kittanning.  Mary's aunt, Pauline George is shown in the photo and would have been 7 years old at the time. There are some common names to Kittanning family history here.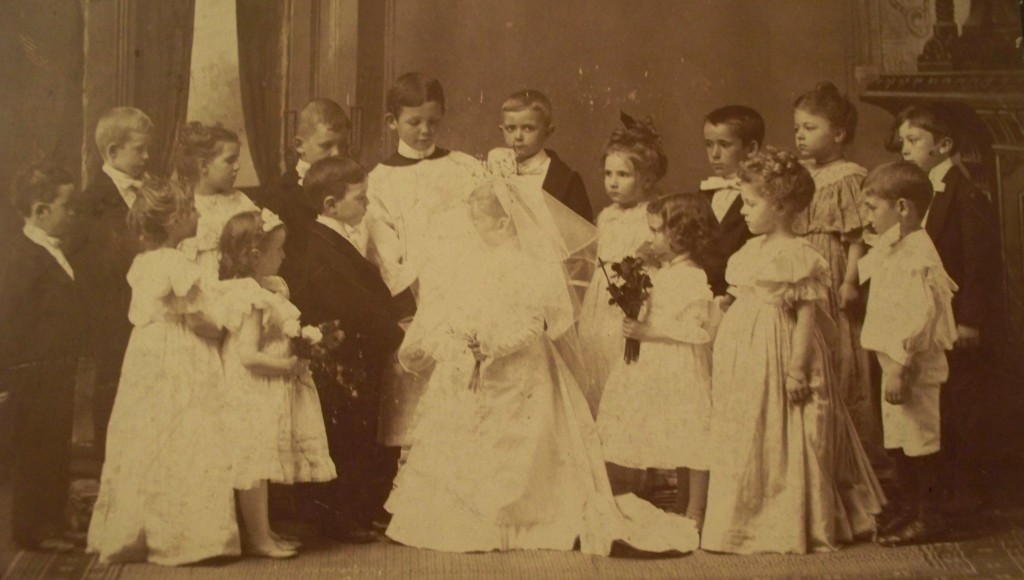 Back row; (1)Dick Fullerton,(2)Don Cameron,(3)Rose Green,(4)George Daugherty, (5)Paul Peecook(minister),(6)Howard Henderson, (7)?,(8)Jim Henry,(9)Pauline George,(10)Ralph Ditty                                                                                                                               Front Row; (1)Helen Snyder,(2)Clara Shankle,(3)Marcus Mckee,(4)Jean Adams(bride), (5)Martha Wright,(6)Sally Green,(7)Harry McVey
The Tom Thumb Wedding Is Created
The fascination of this wedding still carries on to this date.  Shortly after, "The Greatest Little Wedding," people everywhere were putting on their own Miniature Weddings as plays.  The Walter H. Baker & Co. of Boston put out a play 35 years later called, 'The Tom Thumb Wedding."  It was published in 1898.  Many churches and schools put on theses plays for the fun of it and also as fundraisers. From (aweddingtradition.com)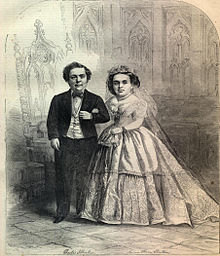 General Tom Thumb was the stage name of Charles Sherwood Stratton (January 4, 1838 – July 15, 1883), a dwarf who achieved great fame under circus pioneer P.T. Barnum. On February 10, 1863 he married Laviana Warren in New York's Grace Episcopal Church. The couple greeted over 2,000 guest at the Metropolitan Hotel during their wedding reception.