In the past, you didn't have to go to a professional baseball game to see men play. Nearly every community had their own men's baseball team, and several ballfields were in the area. Some of the teams were sponsored by local employers and fire companies. In those days if you were a good baseball player, you almost had your choice of employment. Here is a photo near the end of that era.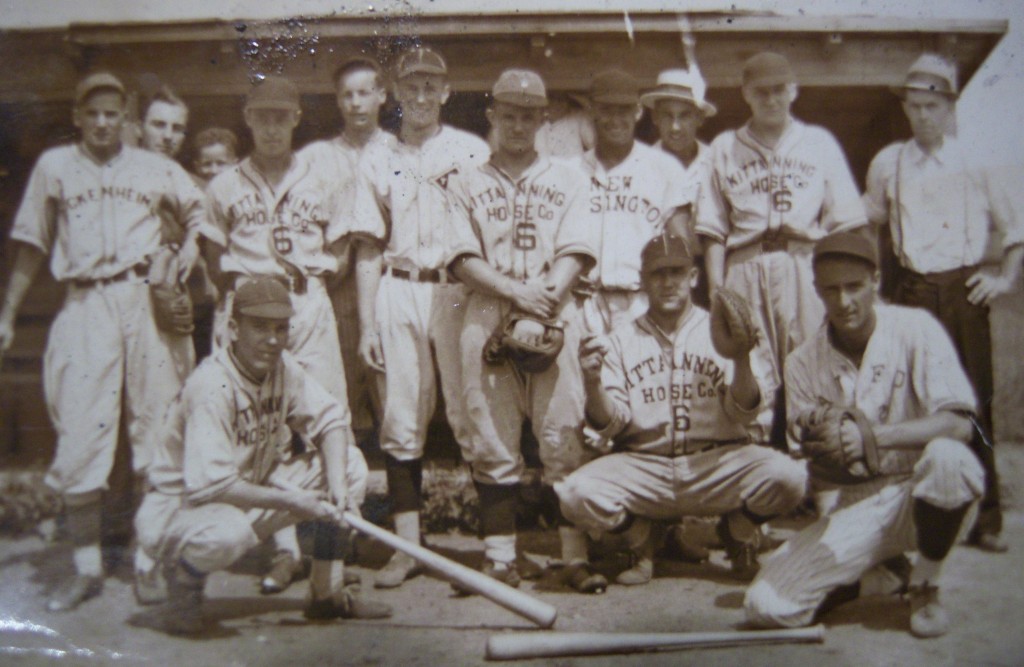 The picture shows various teams, Hose Co. 6, New kensigton, and Dick Starr has a F.D. seen at the end of the lettering. By all accounts this were Wick City guys though, and could have been some type of All-Star game. One has to wonder what other pictures Dan Yapp may have taken on this day.
Wick Borough had two ballfields during it's early history. The first one was were the Kittanning High School is located. Left field was Johnston Ave area and right field was were Victory St. is located. This was in place since the early 1900's as some newspaper articles speak of this, and even a grandstand was noted in a 1914 article. The other field was north of Lemmon Way, and was called "Lemmon Field". Currently the Dielectric Factory is at that location. The ballfield was there to till the early 70's. One only needed to walk up the street to watch a daily ballgame.
I spoke with Dick Starr who is pictured above and played for the New York Yankees. In the article below he stated that it was his father who was the 3rd basemen, J. Starr. The Peerless Athletic Club was made up of Wick City residents. M.D. Lehner was the manager.  I. Walker had a great game, striking out 14.
Highlights of a 1914 game at Wick Boro Ballpark