At one time, what we call Wick City was actually Wick Borough and separate from Kittanning. In the center of the Wick/Heilman/Wick plan of lots was the Orr Avenue Hotel. These lots were recorded around 1900, by John Wick Jr., Tyson Heilman, and Fred Wick(brother of John Jr.). The intersection of Montieth and Orr Ave. was the business district and is stilled zoned as such today. On this NW corner stood the Retail Establishment of Rambach and Caplan, this building still stands today, built around 1900.  Next to this was the Orr Ave Hotel. Even though research is taking place, it is figured to be built around 1903-1904. It hasn't been discovered who built the hotel, but my good friend Mike McDermott, who is affiliated may assist with a title search and this could be answered. Mike has a great interest of finding  a photo of the Courtyard apartments that was in the rear of the establishment. Probably removed in the late 60's or early 70's.
Photo/Article below is from the Daily Times – October 30, 1909.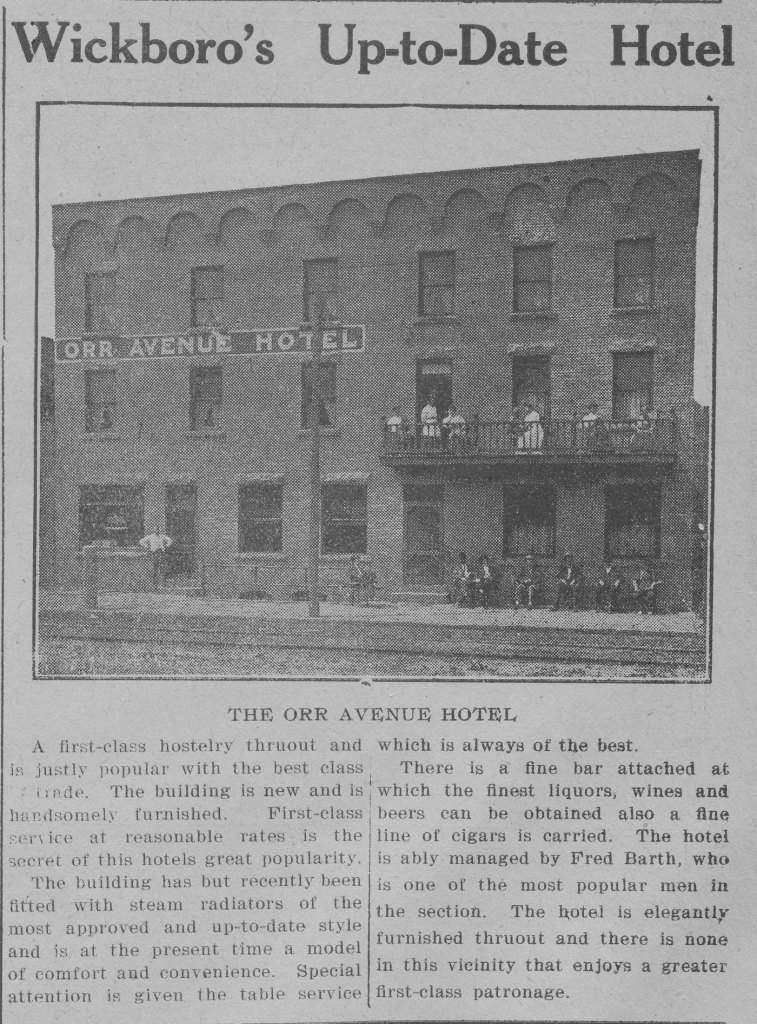 As stated in the article, it appears Fred Barth just managed the place. I did a little research on Fred Barth and he also managed the Cliff Springs Inn in 1892. It stood at the entrance of Applewold, and the west end of the Kittanning Bridge. Around that time it burnt, and possibly Mr. Barth continued in other establishments till taking over management of the Orr Ave. Hotel.  Mr. Barth had a great passion for horse racing and owned several race horses. I'm not sure if there is a local family connection, but he appears to have died in the North Side of Pittsburgh around 1930s.
To my surprise I took this photo almost exactly 100 years after the old newspaper article was published.
Here are some mentioned, or known owners/management personnel after Fred Barth.
Charles Bayne in 1914 applying for a license.
Emil Kaus is listed in the 1919 Polk Directory.
Arthur and Bessie Donaldson around the 1930's to 40's
George and Helen Duckworth, 1950's
Hudson Nichols and family, 1960's to 1980's
Bill Hohl and Donna Connelly, mid 1980's
CMT Corp. from late 1980's to current.
Further research will continue on this subject by me and the area known as Wick City.
Linda Mockenhaupt who has joined us, has a great deal of knowledge on local hotels. I'm sure in the future she will provide greater detail on these establishments.