There was a time that evenings were spent relaxing on the porch. It was also a great social event to speak to people passing bye, and gather with the neighbors.  No air conditioning existed, and outdoor relaxing was needed to beat the heat. In my 20 years of patrolling the town of Kittanning, I've become very familiar with almost every building. This residence was a common design from the 1860's to early 1900's and several still exist. Today at this residence, no longer is the wide-open porch. The roadway was widen as any type of porch at all would take you out over the sidewalk today.  But, a few clues helped to pinpoint the location. Even though the porch is missing the main structure is intact. Noticeable to the left is the wooden add-on addition that appeared then and now. A person I spoke to a while back stated that the wooden add-on  was the quarters for the servants of the house.
The residence is located at 412 Union Ave. Driving south on Woodward Ave, it sits straight ahead at the T stop-signed intersection.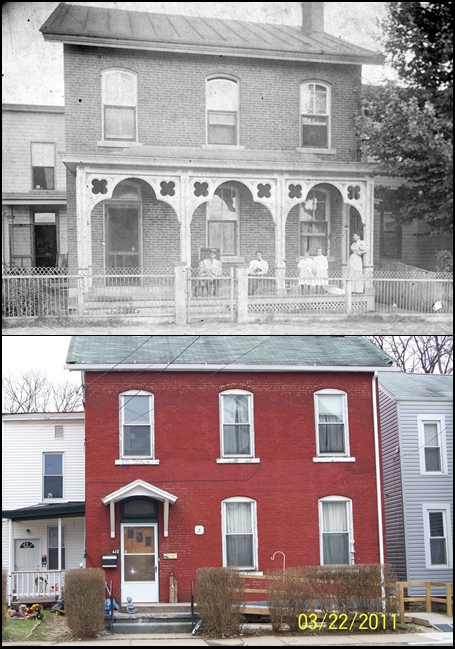 In the 1904 Polk directory Samuel Rumbaugh, a carpenter is listed as residing there along with James H. Rumbaugh, a painter who is listed as a boarder. From early 1910 era this house was associated with the Mordecai A. Campbell Family.  They appeared to maintain possession of it until the early 1960's.